How the idea to start the activity emerged?
The founder of the school said that while travelling in Japan in 2009 he did not find robots in everyday life (only in factories and universities). He understood that smart / intelligent people form the image of the country and that we can do this in Lithuania starting from the small steps.
It is pleasant that the former students continue the technological activity and create inventions.
The school represents Lithuania in various robots' competitions in the USA. Lithuania is being presented as smart country and the country of inventions.
Robotics School hosts a wide range of activities aimed at different age groups. Most activities target children and youth, but also they have programs for adults.
The workshops are constituted of theory and practice. However, the greatest attention is paid to practical activities.
Students who come are motivated. They are being asked to perform tasks and teacher / facilitator is always there to help.
They apply hands-on technology in engaging and motivating students to learn science, technology, engineering, arts and math (STEAM curriculum) while equipping them with the real-world knowledge required by today's global society. Program activities for beginners include basic building and programming whereas advanced courses include more in-depth knowledge and skills of electronics, mechanics, engineering and programming. They believe that true learning takes place when students discover on their own through hands-on, minds-on approach. By allowing children to learn in a process that stimulates, energizes and engages them, children experience a more productive education and deliver better results.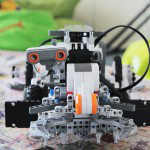 Besides scheduled activities, Robotics School runs children camp. We believe that the combination of meaningful work and organized leisure activities is an effective and fun way of learning. Campers work in small groups to identify challenges in their community they can help to solve using technology.
Creativity, imagination, teamwork and innovation are all actively encouraged to ensure children have skills required to design the world of tomorrow.
Children's creativity is the key element – their imagination is not limited. The invention of new things is encouraged.
Skills of programming, electronics, programming, 3D design and printing, mechanics, basics of engineering, work in groups, entrepreneurship competences are being developed.
They have taken a part in EU project with visually impaired people "Let's see each other". During the project blind people talked and shared about challenges they deal with every day. It was proposed to reduce the challenges via technological means, e.g. contributing to print 3D models of famous people, well known buildings, as well as local buildings such as schools.
Robotics School also implements a number of projects in rural areas, libraries and schools, in order to acquaint children with the latest technologies. They have participated in a Project "Global Libraries" (Libraries for Innovation) sponsored by Bill Gates and Melinda Foundation. A project is designed to strengthen the use of public libraries' capacity with a purpose to provide Lithuanians a better access to information technologies. The project assists people, who until now have not had conditions, to access information technologies and use it in their activities and everyday life. This project has a significant effect to people living in rural areas and fosters education, development of social communication and a better use of information technologies in services. The school facilitated training to library staff, delivered workshops and prepared learning materials used during the project.
It is also expected that after workshops participants will create some invention useful for the people, or develop a start-up. They have active libraries in Kaunas and Klaipėda where after their training created a laser, smart 3D printed city. The library in Kaunas was awarded with the international award as the smartest library. Participants are also asked to join various engineering projects.
www.robotikosmokykla.lt/category/irankiai
Android cell phones;
Rasberry PI
Intel Galileo
Solidworks
3D printers
LEGO Mindstorms
Arduino
"Google Cardboard Glasses",
"HTC VIVE VR",
"iPad"
Participants works, inventions, mentions in the press are put on the website, they participate in international competitions:
This is a kind of evaluation and motivating factor for students.
Self-evaluation is encouraged. We promote a positive self-development which with the help of a teacher is successful.